Kubota Generators

SQ Series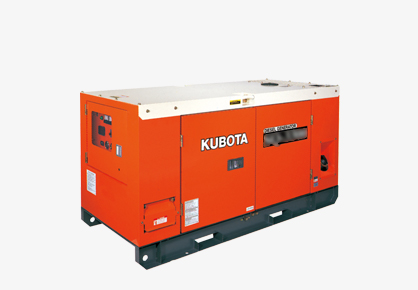 4-Pole Single & Three Phase
Output Range : (Single Phase) 11.2 - 24 kVA / (Three Phase) 14.0 - 35 kVA
Satisfied with Quiet? Meet the Super Quiet series!
Kubota's largest yet super quiet heavy-duty type 4-pole generator series.
The special enclosure with noise absorbing duct, over-sized muffler, extra-long
air cleaner hose, and quieter cooling fan all add up to
its super quiet performance (62 - 65 dB, 23 feet) at full load.
Line up
*Image shown may not reflect actual package.
Features
Dependable Generation

Direct Coupled
The generator and the engine are direct-coupled to ensure a more reliable power supply with minimum power loss.

Excellent Load Characteristics
Solid-state voltage regulation maintains excellent stability (less than 5%) during changing load conditions. Quick response automatically provides stable power to sensitive equipment.
Clean Emissions

Diesel engines selected to power the heavy-duty SQ series produce far less soot, HC and CO emissions thanks to Kubota original E-TVCS combustion.
Ease of Operation

Improved Enclosure with a Noise Absorbing Duct
Noise within the generator unit has been lowered by improving the noise reduction enclosure and by adding a new noise absorbing duct with 3 air intake holes.

Over-Sized Muffler
The over-sized muffler has lowered the sound level.

Second Muffler (for V3300 only)
A special two-stage muffler system is used in generators powered by V3300 to reduce noise even further.



Quieter Cooling Fan
Kubota not only reduced fan related noise with this larger-diameter, slower-speed fan, but also maintained the same cooling effect as one running at normal speed.

Reduced Air Inlet Noise
A longer air filter inlet hose is used to keep the low frequency noise down.

Base Mounted Fuel Tank
The SQ series is equipped with large capacity bottom mounted fuel tanks to prevent fuel spills inside the enclosure. The locking fuel cap is placed to avoid damage and simplify refueling.



Compact and Easy to Transport
The advanced design and superior engineering minimizes both space and weight.
Transportability is improved with slots on each side of the machine for safe forklift truck transportation.
Carefree Maintenance

Easy One Side Maintenance
Engine oil and coolant drain extensions are provided to ease regularly scheduled maintenance. Oil gauge, filter, oil replacement port, fuel filter, water reserve tank, battery and air filter are all located on one side for quick inspection and maintenance.

Locking Control Panel Door
Shields instrument panel from the elements and permits observation of all key functions without opening the door.

Automatic Air-Bleeding
Every time the engine key is turned ON, air is automatically purged from the fuel system.



Automatic Start System
Wiring and space have been provided as standard equipment for standby applications.
Increased Safety

Designed with Safety in Mind
The fully covered load center houses all the outlets, compression terminals, and circuit breakers. To prevent inadvertent contact with the terminals, the receptacles are divided in a separate section.

Safety Door Interlocks
Safety door interlocks automatically shut down the engine if the load center doors are opened during operation. For safe, unattended operation, even the maintenance doors are equipped with safety interlocks.



Safe Enclosure
Large, removable doors feature heavy-duty steel hinges and recessed locking door latches safeguard against unauthorized use, allow safe, unattended operation and easy maintenance.