Kubota Generators

KJ Series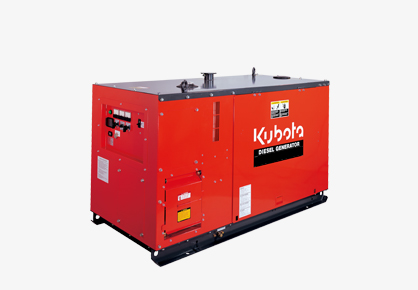 4-Pole Single & Three Phase
Output Range : (Single Phase) 12.5 - 18.0 kVA / (Three Phase) 12.5 - 30.0 kVA
Heavy-duty power generation
A heavy-duty 4-Pole series powered by KUBOTA diesel engines.
Many features have been added to make the KJ Series much quieter,
more efficient, and safer to use anywhere, any time.
Line up
*Image shown may not reflect actual package.
Features
Dependable Generation

Direct Coupled
The generator and the engine are direct-coupled to ensure a more reliable power supply with minimum power loss.

Brushless Alternator
This brushless, self-excitation type alternator is designed to be used in a wide variety of difficult starting conditions. Its Load Acceptance Module (LAM) enables the engine to accept larger load impacts and to regain its rated speed more quickly. Its convertible (50/60 Hz) electronic regulator is powered independently from the voltage detection circuit; therefore, regulation is not affected by distortions generated by the load.

Transistor Automatic Voltage Regulator (AVR)
All KJ Series generators are equipped with a transistor AVR to regulate a stable flow of current. In addition, any local condition can be matched by the knob.

Clean Emissions

Diesel engines selected to power the heavy-duty KJ series produce far less soot, HC and CO emissions thanks to Kubota original E-TVCS combustion.
Ease of Operation

Reduced Sound and Vibration
Kubota's inherent low noise design, a sound attenuated enclosure which effectively reduced all sound including that of the muffler, and the original TVCS combustion system substantially reduced the sound levels. Inserting rubber pads and additional supporters in critical areas also reduced integral vibrations.

Convenient Front Panel Control
All switches and lamps are conveniently located in the center of the front panel for maximum accessibility.



Transportability Enhanced by Twin Point Lifting Eye
Twin point lifting eye made it easy to transport all KJ Series generators.


Carefree Maintenance

One Side Maintenance
Oil, fuel, water, and filters are all located on one side for easy maintenance.

Automatic Air Bleeding
Air bubbles, which can rob the engine of its power, are automatically removed from the fuel line.

Increased Safety

Automatic Shutdown Mechanism
Should any abnormality occur in oil pressure or water temperature, this mechanism automatically stops the engine before it can be damaged.

Emergency Unit
Kubota gathered the emergency relay, timer relay, and safety relay into one unit to save space, simplify the wiring scheme, and to improve protection against water, dust, and vibration. Key stop and mechanical manual emergency stop mechanisms are also included in this unit.

Protective Design
All rotating parts of the generator have been covered by a metal enclosure for maximum operator safety.

Load Center
All output terminals have been gathered on the side of the generator rather on the front. This new location will help reduce the cables from being tangled.